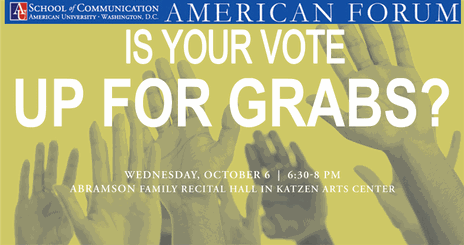 Join The American Forum on Wednesday, Oct. 6 at 6:30 P.M. in AU's Katzen Arts Center to discuss young voters and the mid-term elections. Moderator Jane Hall hosts guest Karen Finney, MSNBC political analyst and former communications director for the Democratic National Committee and Kevin Madden, public relations executive, republican strategist and former press secretary to Gov. Mitt Romney's campaign and House minority leader John Boehner.
The American Forum is a place for conversation around the topics that concern America's young people.
Every Wednesday at 7 P.M. EST, students are invited to participate in weekly chats on Twitter using #amforum on a variety of issues. Speak your mind and be heard, we want to hear your thoughts and ideas. You can also participate in our discussion boards and via our Facebook page.
The American Forum is hosted at The American University School of Communication in Washington, D.C. American Forum events are held regularly on campus, where key decision makers and experts are brought together with students in a open conversation. People from around the nation watch live online and participate in these dialogues, which are also broadcast by partnering organizations like CSPAN-TV and NPR via American University's member station WAMU.